NATO/EU/OSCE Membership overlap
The figures on this page are based on the GLOBE report "Case study of the European Security Architecture: NATO and OSCE" (PDF, 6MB). 
The membership of NATO, the EU and the OSCE overlap to a large degree (figures A and B). Moreover, this membership overlap has increased, especially after NATO's and the EU's eastern expansions, driving increased interaction, but also causing several interorganizational problems.
NATO, with a total of 30 member states, and the EU, consisting of 27, share 21 member states (figure C). The member states that are only a member of the EU and not of NATO are five neutral EU states (Austria, Finland, Ireland, Malta and Sweden) as well as Cyprus. The member states that are only a member of NATO and not of the EU are six European states (Albania, Iceland, North Macedonia, Norway, Turkey and the UK), as well as the two North American members: Canada and the USA.
As for the OSCE, all the EU states and all NATO states also participate in the OSCE. Thus, of its total of 57 member states, the OSCE shares 27 with the EU and 30 with NATO, leaving a total of 23 states as participants in the OSCE alone (figure D).
* All maps reflect the composition of the three organizations as of 30 November 2020.
Source: Own creation
Figure A: Membership overlap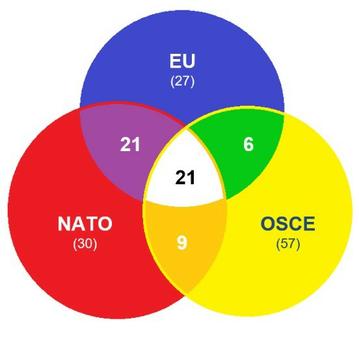 Figure C: Overlapping membership of NATO and the EU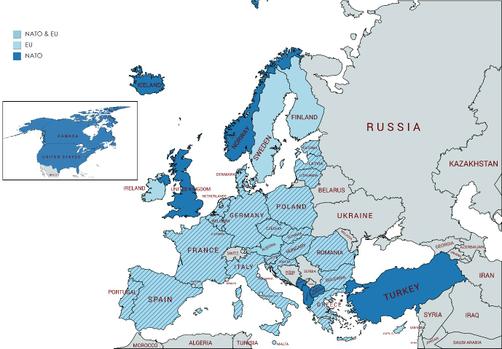 (Click to enlarge)
Figure D: Overlapping membership of the OSCE and the EU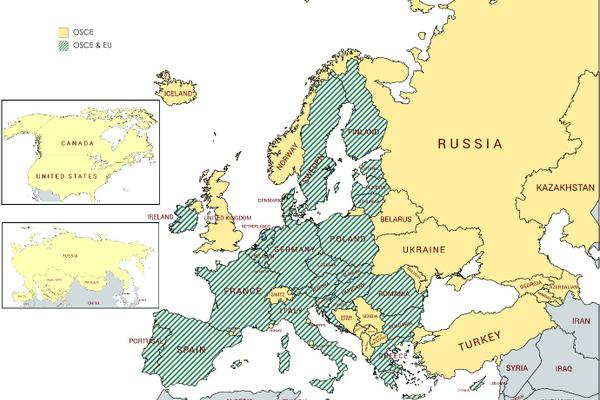 (Click to enlarge)