2nd General Assembly in February 2020 in Berlin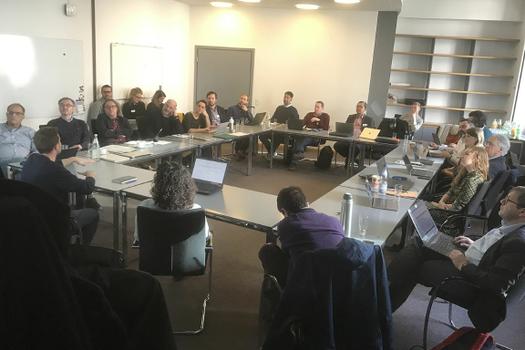 The 2nd General Assembly took place in February 2020 in the Berlin Social Science Center (WZB). During the morning session on the first day, the biggest part of the session was dedicated to the discussion of different mapping papers from the WP 2-6. After that, the Coordination Team presented recent GLOBE outputs such as the Presentation of the first GLOBE Policy paper, the Public Index of databases on Global Governance and the Public Index of Global Governance Research Centres. In a next step, many relevant GLOBE projects planned for 2020 have been presented such as the MOOG, the design and questionnaire of the GLOBE survey to be launched in 2021 and the Ethics procedures applied in the project.
The second day of the meeting was dedicated to the planning of upcoming deliverables. After the mapping exercises carried out in 2019, and in parallel to the development of a transversal analysis about the dynamics of global governance across sectors (examining datasets, survey to IOs, sentiment analysis, etc.), teams of GLOBE partners will now focus on the particular working papers. It started with a long brainstorming session, which included the discussion of 12 future working papers. Angel Saz from ESADEgeo introduces the current state of play of GLOBE's Big Data project "Global Governance Organizations Radar" (Deliverable 2.6). As a last point, Jacint Jordana kicked off the discussion on future GLOBE publications. A first idea is to explore in an edited book publication based on the mapping exercises. Another path is a Special Issue proposal in an academic journal on the EU in global governance.